WHY USATFs OPPOSES the Tax
IT's a BAD DEAL!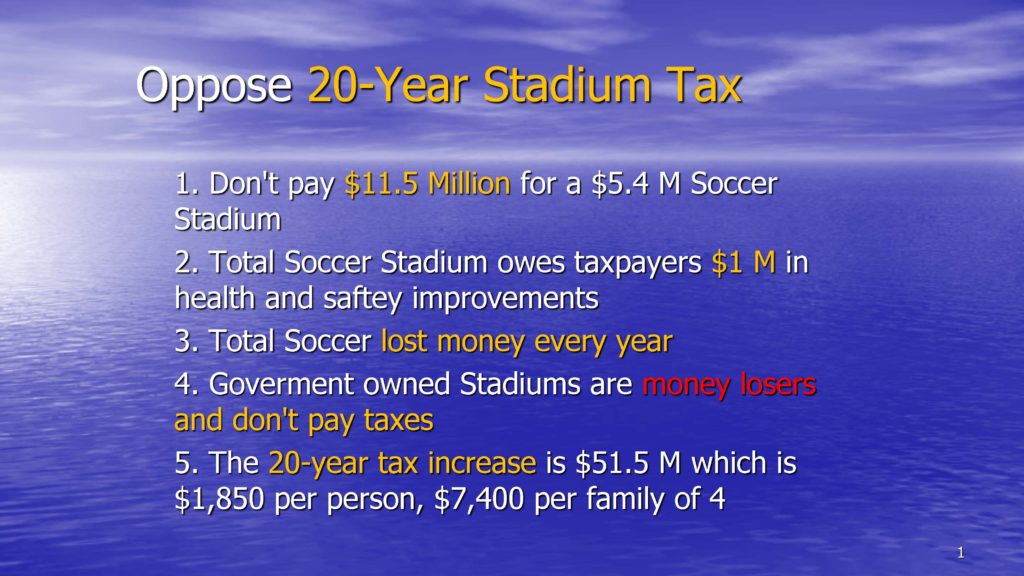 DOWNLOAD MEDIA ASSETS BELOW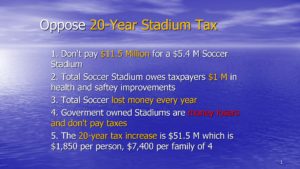 Native PowerPoint file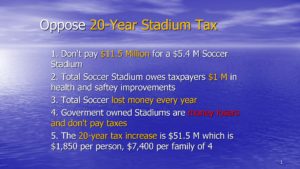 PDF File. Print, email, share…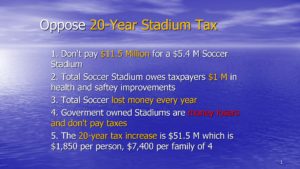 Not perfect but here you go.
USATFs Opposes Total Sports Tax
Washington Township wants you to buy a soccer stadium for $11.5 million that the township and business agreed was worth only $5.4 million on March 19, 2019. Then the Soccer Stadium was granted a special 32% tax cut.
The proposed 20-year property tax increase will cost $1,850 per person to buy a money-losing soccer stadium. Spending money on your family is a much better choice.
Since opening in January 2018, Total Soccer has failed to pay $1 million for health and safety mandates including handicapped areas, access roads, sewers, and Engineering inspections. A yes tax increase vote means taxpayers will have to pay for Total Soccer's health and safety improvements.
The "Save Parks and Rec" signs are dishonest as the parks and recreation millage does not expire until Dec. 31, 2020. The township is spending taxpayer money on mailings, brochures, websites and refuses to allow opposing viewpoints to be aired on the public access TV channel and websites.
A government take over of Total Soccer means schools and governments will lose over $7 Million in taxes because government-run facilities don't pay sales, property nor income taxes. Total Soccer has lost money every year. Government-run sports complexes have failed miserably including the Pontiac Silverdome and Joe Lewis Arena.The entire 20-year tax increase will cost approximately $51.5 million, costing a family of four $7,395.
https://usataxfighters.org/wp-content/uploads/2019/11/Sports-Stadium-20-year-tax-increase_10-10-19_FINAL.mp4